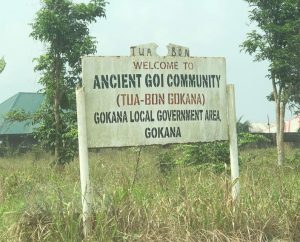 A trip to the East of the city of Port Harcourt takes International Alliance on Natural Resources in Africa (IANRA) members to Goi Village. Not so long ago, the village used to be home to the ancient Goi Community, who make part of the indigenous Ogoni people. The village is just a small portion of the vast Ogoniland. Remnants of houses once homes tell a story of what has become of most areas in the Niger Delta, inhabitable. Most locals have fled for safer grounds, not by choice; there is a public notice for people to keep off the contaminated area. As displayed on a sign post by the road, ''This is By Order:  Hydrocarbon Pollution Restoration Project (HYPREP) Federal Ministry of Petroleum Resources''.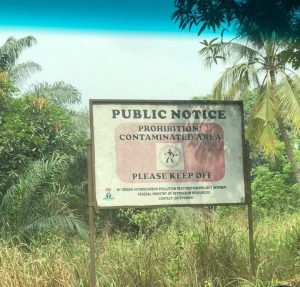 According to locals, oil spills in 2008 and 2009 on the upper grounds of neighboring Bodo village led to leakage in the rivers and neighboring lands, robbing the community of its livelihood. They could no longer depend on fishing or crop farming as most of the fish died and the soil became unproductive. The water became unsafe for drinking and mangroves started to die. The levels of pollution have gone up to extends of causing cancers to locals, miscarriages to pregnant mothers and deaths of infants among other major health threats. For them, every Friday means a funeral, courtesy of pollution.
A group of young boys, the age of school going children jump into the dark water river for a swim. It is unclear whether they know the health impacts this can have on their bodies, but they mention that they are tired of running away from home. Home for them is by the river.  They represent a community that has continuously said they feel like refugees in their own land. Their absence from school and anger over the loss of what should be their home to pollution is a cause for alarm. The young men are said to be a likely security threat in the already insecure region.
A middle-aged woman expresses her anger over the company that most locals claim has turned their lives upside down and the government of neglect. We are told the narrative is the same for most locals in the Niger Delta. Oil leakages date back to the 1990s, the locals cannot even remember how it feels to breath fresh air. Shell oil Company is blamed for most of it.  In various occasions, the company has blamed leakages on theft attempts. Locals insist that most pipelines are old and poorly maintained, thus ignorance by the multinational corporation.
Compensation for the losses caused has not been made yet, according to most locals. For those that received anything, it was nothing compared to levels of damages caused. There remains Court cases to seek justice for communities in the region both locally and internationally, including the Hague. Justice is yet to be served.
In 2016, a Oil Spill Clean-up was launched in Bodo village by president Buhari. It was aimed to restore the region to a better state. Locals say things have only gotten worse since the project has not been fully implemented, if at all. They now look up to organizations to amplify their cry for justice.
IANRA members have since set to engage to find long term solutions to issues in the Niger Delta, and regions elsewhere that stand to face similar risks, if the history of injustices in the Niger Delta is not prevented from re- happening in other African states involved in mining. The mission is to enable social, environmental and economic justice in the natural resources sector towards empowerment of the poor and excluded communities through research, lobbying, advocacy and campaigning.